Homemade Chicken Noodle Soup from scratch means we're starting by making our own homemade broth. It sounds overwhelming, but it doesn't have to be hard. Fresh and simple ingredients that pack delicious flavor will make a simple chicken soup that everyone will wonder if your grandmother dropped it off.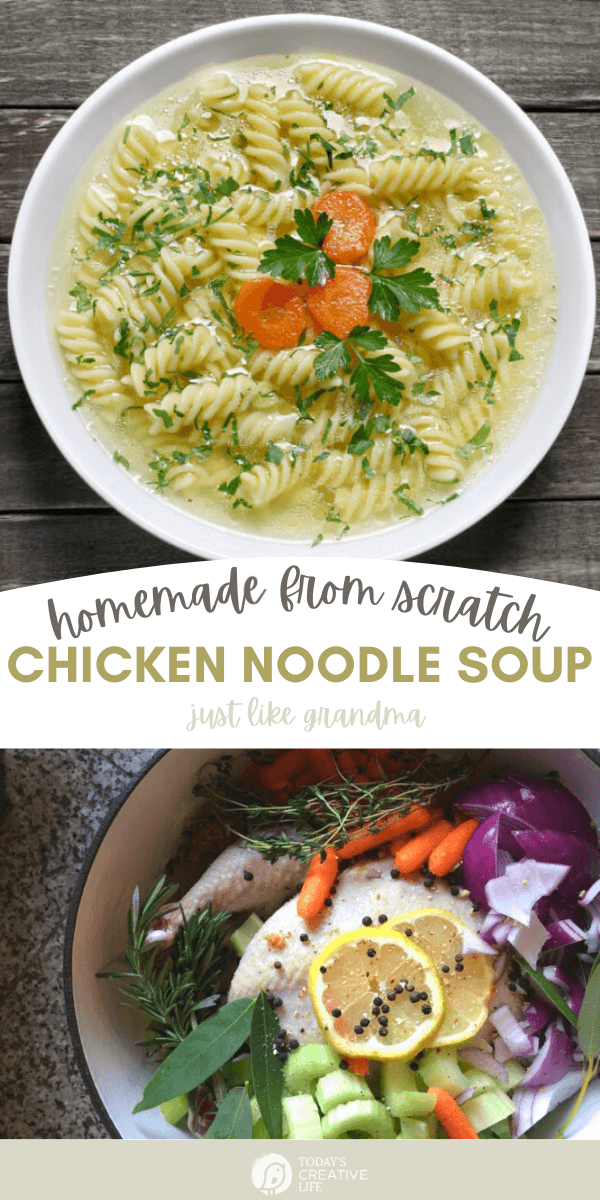 Homemade Chicken Noodle Soup Recipe
Every homemade soup starts with fresh ingredients. The perfect blend of vegetables and seasoning makes a homemade broth full of flavor which is the foundation for this chicken noodle soup recipe. If you're short on time, you may enjoy this Chicken and Wild Rice Soup. It uses any boxed rice for a delicious and fast soup recipe.
Chicken Noodle Soup Ingredients
Whole Chicken
Carrots
Onion
Celery
Garlic
Lemon
Bay Leaves
Fresh Herbs like rosemary, thyme, oregano. Dried herbs can be used if you don't have fresh.
Soup Making Kitchen Supplies
Every kitchen eventually needs a cast iron Dutch Oven. There are many brands to choose from, but the most popular is the Le Creuset Enamel Dutch oven. I own one from Staub and Lodge and they do just fine.
Like a good cast iron pan, a good Dutch Oven can be passed down to the next generation.
Other essential tools:
Cutting Board
Fine Mesh Colander, Fine Mesh Colander with a handle or a Cheese Cloth
Baking Dish
Soup bowls
Soup spoons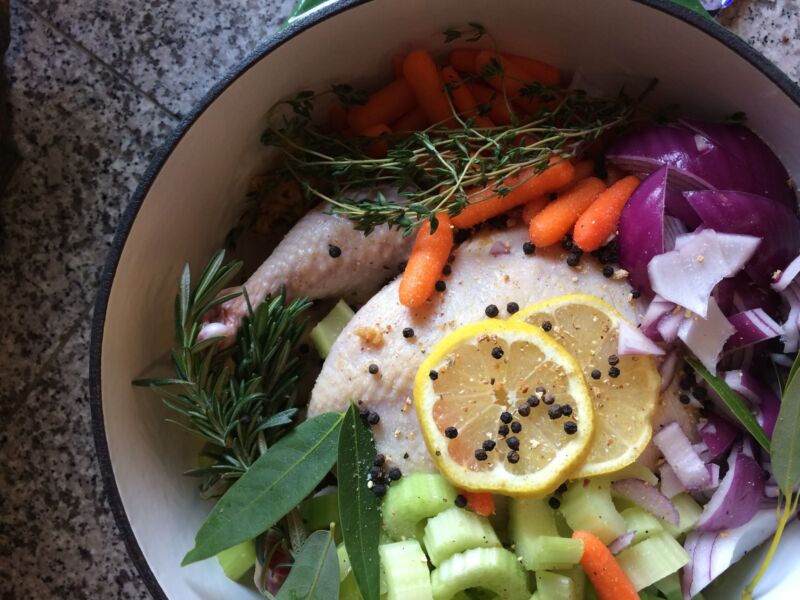 Home to Make Homemade Chicken Broth
Place a whole chicken in your Dutch oven. I kind of eyeball it when adding veggies to make my homemade broth and usually use whatever I have in the fridge. Chop up a few stalks of celery, carrots, and a whole onion. Add a couple of slices of lemon, a few bay leaves, and sprigs of fresh rosemary, and thyme. I love garlic, so using 4 or 5 cloves is common.
I use this garlic roller to peel garlic quickly. It's my current kitchen crush. After it's peeled, I either chop or use something like this garlic chopper. Minced garlic out of a jar works fine too.
Add a couple of teaspoons of Sea Salt and a small handful of fresh peppercorns.
Fill your Dutch oven with water, stopping about an inch and a half from the top.
Bring to a boil, then cover and lower temp to a simmer for a couple of hours.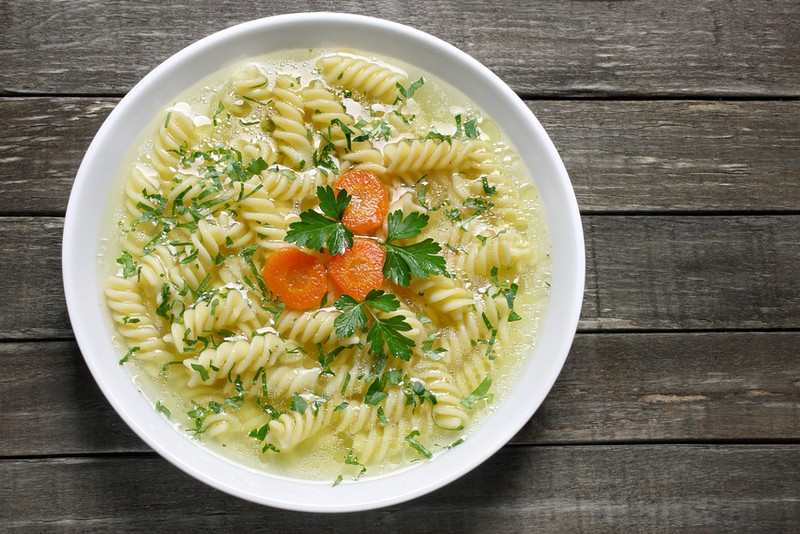 How to Make Homemade Chicken Noodle Soup from Scratch
After your broth has been cooking for a couple of hours, gently lift your cooked chicken out of the pot and place it in a baking dish. I use large tongs or two large forks. Set the chicken aside to cool and then separate into bite-size pieces later.
Using a fine mesh colander with a handle to scoop out the veggies, or place a larger fine mesh colander over another large pot or bowl and pour the rest of the contents through the colander or cheesecloth. This will separate the bulk from the broth. I discard all the cooked veggies and herbs, although some people like to reserve them to place back in or for something else.
If you've poured your broth into another pot, return it to your Dutch oven using a broth separator to separate the grease from the delicious broth.
Place 2 or 3 cups of the separated chicken meat with your broth.
Add fresh chopped celery, carrots, garlic, and maybe even some potatoes if you'd like. Get creative and add any veggies you love. Add seasoning as needed.
Add uncooked Rotini pasta or egg noodles.
Bring to a boil. When the noodles are tender, it's ready to eat!
Add a salad and bread or eat it alone.
Homemade Chicken Noodle Soup from Scratch
Yield: 8
Prep Time: 2 hours
Cook Time: 25 minutes
Total Time: 2 hours 25 minutes
Delicious from scratch homemade chicken noodle soup like your grandma made.
Ingredients
BROTH INGREDIENTS
1 or 2 carrots - sliced
2 stalks celery - chopped
1 lemon - sliced
3 or 4 garlic cloves or 1 tablespoon minced
fresh herbs: rosemary, thyme, 4 bay leaves - just a sprig of each
1 teaspoon sea salt
1 teaspoon peppercorns
1 whole onion chopped
SOUP INGREDIENTS
Homemade Broth
2 cups chopped chicken
1 cup each chopped carrots and celery
2 chopped garlic cloves or 1 teaspoon minced garlic
1 to one and a 1/2 cup rotini noodles or egg noodles
Parsley for garnish
Instructions
FOR BROTH
Remove any parts from inside the whole chicken and place it in your dutch oven. I use a 6 quart. (You can also use a crockpot on low for 6-8 hours)
Add chopped carrots, celery, onion.
Cut the lemon in slices or wedges and add all of half.
Add garlic cloves, bay leaves, and herbs.
Add sea salt and peppercorns.
Fill your pot up with water, stopping about an inch from the top.
Bring to a boil, then reduce to a lower temp for a high simmer for 2 hours. I like to cover for most of the time to stop evaporation.
After a couple of hours, take your pot off the heat. Take the chicken out carefully using tongs and place in a baking dish. Shred or remove and chop some of the meat for the soup. Set aside.
Place a fine mesh colander over a large bowl or another pot and pour and strain the broth and contents. Discard all of the contents left behind in the colander.
When returning the broth back into the dutch oven to be used for your soup, use a broth separator to separate the fat and grease from the broth.
FOR SOUP
Place 2 or 3 cups of the separated chicken meat with your broth.
Add fresh chopped celery, carrots, garlic and maybe even some potatoes if you'd like. Get creative and add any veggies you love. Add seasoning as needed.
Add about a cup and a half of uncooked Rotini pasta or egg noodles.
Bring to a slight boil. When the noodles are tender, it's ready to eat!
Place in a large soup bowl and serve with a soup spoon. Garnish with fresh parsley. Add some crusty bread for a full meal.
Notes
You can use your crockpot to make the broth if desired. Place all the ingredients except noodles and cook on low for 6 to 8 hours. Add noodles about an hour before it's finished.
Nutrition Information
Yield 8
Serving Size 1
Amount Per Serving
Calories 170
Total Fat 6g
Saturated Fat 2g
Trans Fat 0g
Unsaturated Fat 4g
Cholesterol 41mg
Sodium 515mg
Carbohydrates 17g
Fiber 2g
Sugar 3g
Protein 12g
We do our best to calculate, however, nutrition information may not be accurate.
Can I Make This in the Crockpot?
You sure can! Here's my recipe for making chicken broth in your crockpot. You could make the broth one day and the soup the next. Or use frozen or store-bought broth to speed things up. When making chicken noodle soup in the slow cooker, add your noodles in the last hour. Otherwise, you'll end up with mushy noodles.
Can I Use Store-Bought Broth?
Absolutely! I use broth from a carton all the time! Or even the "Better than Real Boullion" brand. Follow the recipe as written, skipping the broth-making section. I would still put in a few herbs for extra flavor. If you already have roasted chicken, boxed or canned broth only makes sense.
Can I Freeze Homemade Chicken Noodle Soup?
Yes! Freezing leftovers makes menu planning much easier. You can also just make up the broth and freeze it to have it on hand. Store soup or broth in an airtight container leaving an inch between the liquid and lid. Use within 6 months. I've also used ziplock gallon size bags to freeze soups. Allow the soups to cool to room temp before pouring into bags.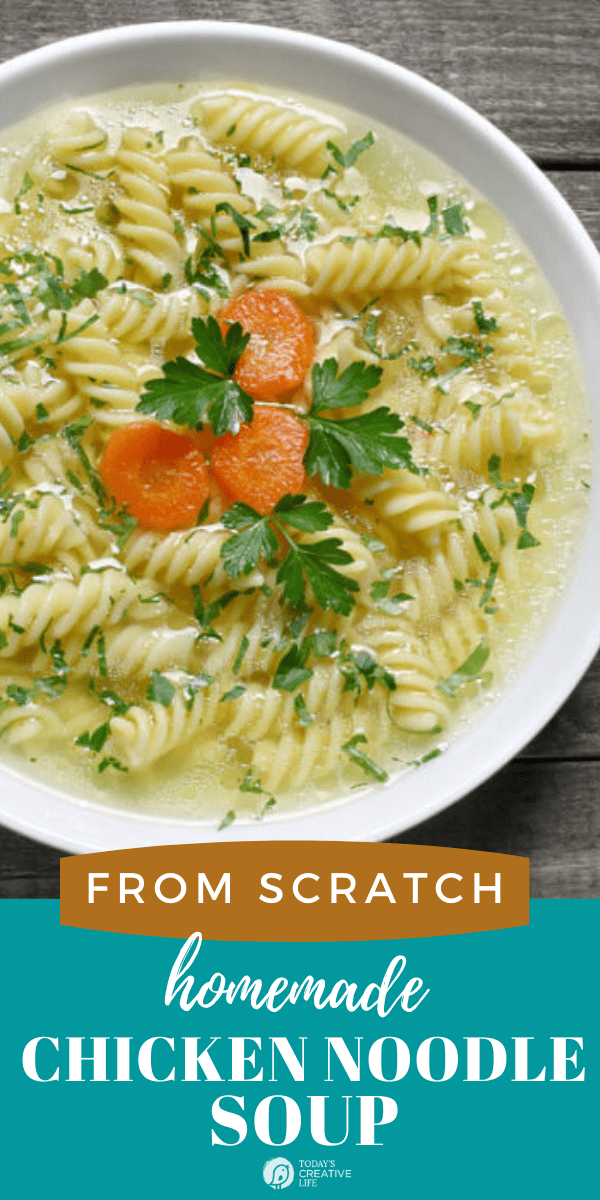 Homemade Soup Recipes
Delicious homemade soups with simple ingredients.
Nutritious and delicious!
Serve with homemade cornbread!
Better than Olive Garden!
Healthy soup for anytime of year.
This is a family favorite! Perfect for when you need dinner on the table FAST.
Serve with a warm tortilla or tortilla chips!
Another great soup when you're craving Mexican food!