Easy to make cookie recipes are my favorite. Chocolate Chip Pretzel Cookies using peanut butter filled pretzel nuggets satisfies your chocolate and peanut butter cravings. Crispy on the outside, chewy on the inside! Instead of chocolate chips, try them with any leftover chocolate candy bars, or M&Ms. And instead of pretzels, try anything salty, like potato chips.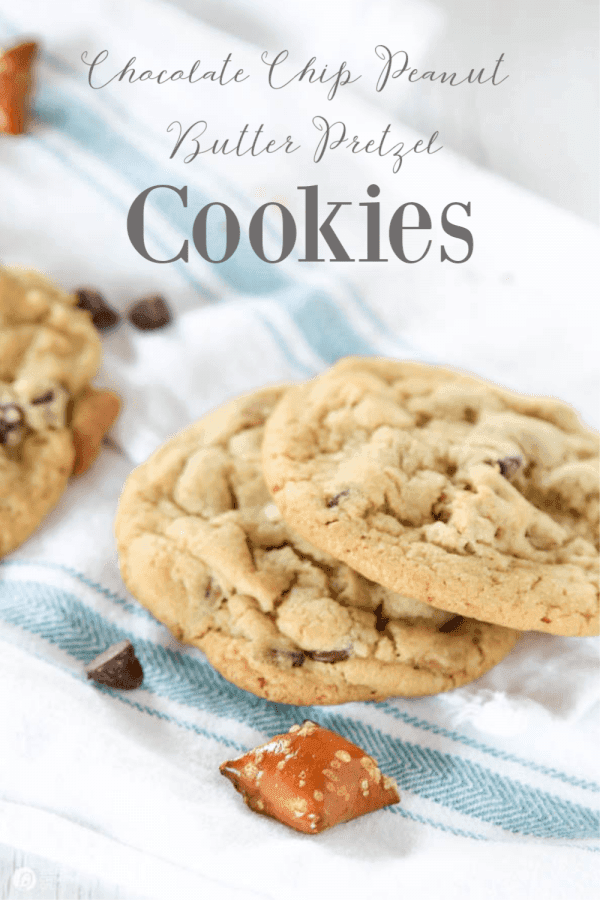 Peanut Butter Chocolate Chip Pretzel Cookies
These were the result of a baking craving during the pandemic quarantine. I wanted to add something more to the traditional chocolate chip cookie recipe or even my cake mix Chocolate Chip Cookies and because I had a Costco size tub of these peanut butter pretzels, I thought "Why Not?". Then I saw my friend Leighanne on Instagram making up what she calls Compost Cookies and knew I was Ok with direction I was heading.
After whipping up the basic dough, I crunched up a handful of these salty peanut butter pretzels and added them along with the chocolate chips. They didn't get soggy and baked up perfectly!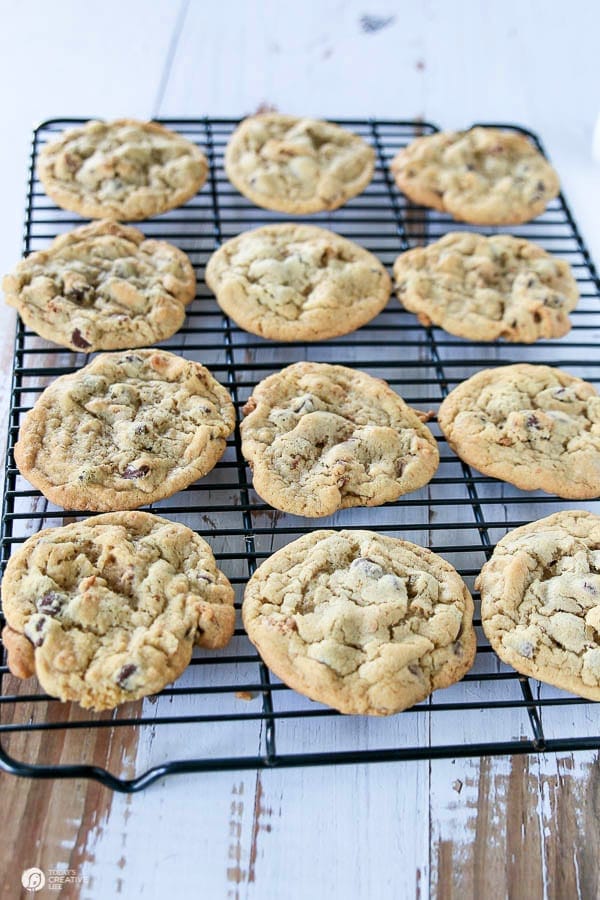 How to Make Chocolate Chip Peanut Butter Pretzel Cookies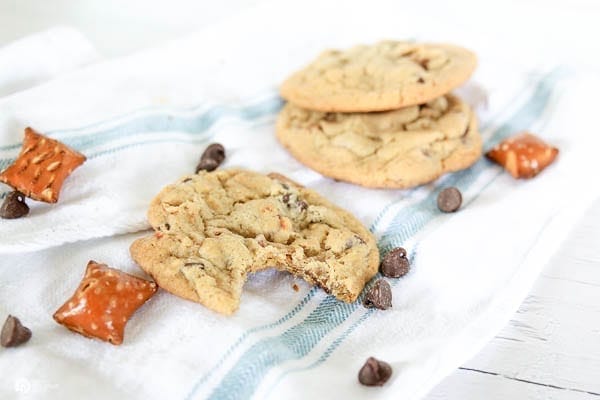 Chocolate Chip Peanut Butter Pretzel Cookies
Yield: 2 dozen
Prep Time: 20 minutes
Cook Time: 12 minutes
Total Time: 32 minutes
Salty Peanut Butter Pretzel Cookies with Chocolate Chips are crispy on the edges and chewy in the middle!
Ingredients
1 cup butter - softened 
1 cup white granulated sugar
1 cup packed brown sugar
2 eggs
2 teaspoons vanilla extract
2 1/2 cups all-purpose flour
1 teaspoon baking powder
1 teaspoon baking soda
1 teaspoon salt
2 cups broken peanut butter pretzel nuggets 
1 1/2 cup chocolate chips
Instructions
Preheat oven to 350°.
I used my mixer, but this can be done by hand.
Cream butter and sugars in a large bowl until well blended.
Beat in the eggs and vanilla.
In a separate bowl, whisk together the flour, baking powder, baking soda, and salt.
Gradually add and beat into the wet mixture.
Stir in remaining ingredients.
Spoon by the spoonful onto an ungreased or parchment paper-lined cookie sheet.
Bake for 12-14 minutes until golden brown around the edges.
Transfer cookies to a wire rack to cool.
Notes
Instead of Chocolate Chips use:
M&Ms
Any Chocolate Candy Bar Pieces
Instead of Peanut Butter Nugget Pretzels use:
Regular pretzels
Potato Chips
Bugles
Nutter Butter Cookies
Nutrition Information
Yield 24
Serving Size 1
Amount Per Serving
Calories 276
Total Fat 14g
Saturated Fat 7g
Trans Fat 0g
Unsaturated Fat 5g
Cholesterol 36mg
Sodium 296mg
Carbohydrates 37g
Fiber 1g
Sugar 22g
Protein 4g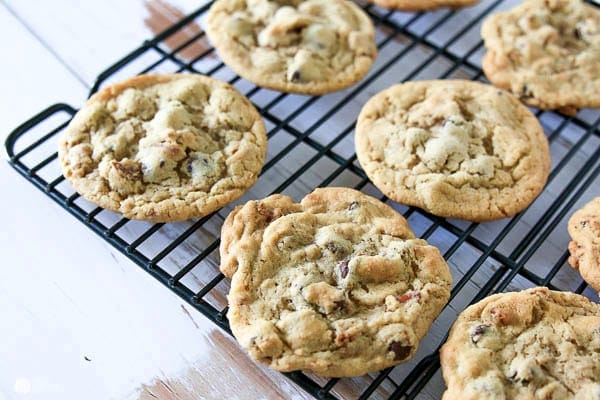 Can I Use Different Flavored Chips?
Of course, you can! It's great with butterscotch, white chocolate, or peanut butter chips.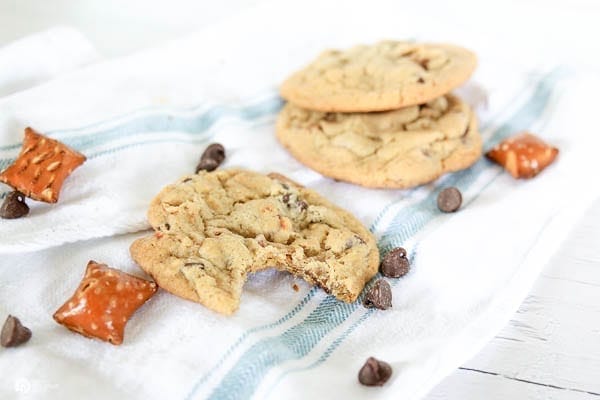 This cookie recipe makes it easy to swap out for items you have on hand. You basically need a sweet, like chocolate candy of any kind and a salty, like potato chips, Fritos, Bugles.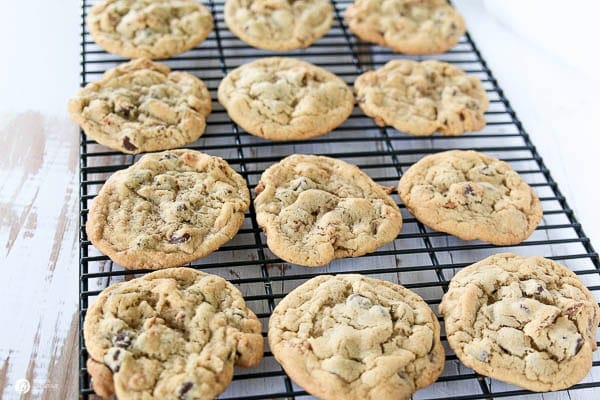 There is just something about that salted sweet mixture, not to mention peanut butter and chocolate.
Can you Freeze Chocolate Chip Pretzel Cookies
Yes! If you have any leftovers to freeze! Store cooled cookies in an airtight container and freeze up to 3 months.
Print off the recipe and be sure to tag me on Instagram @TodaysCreativeLife whenever you make them! I'd love to know what you think!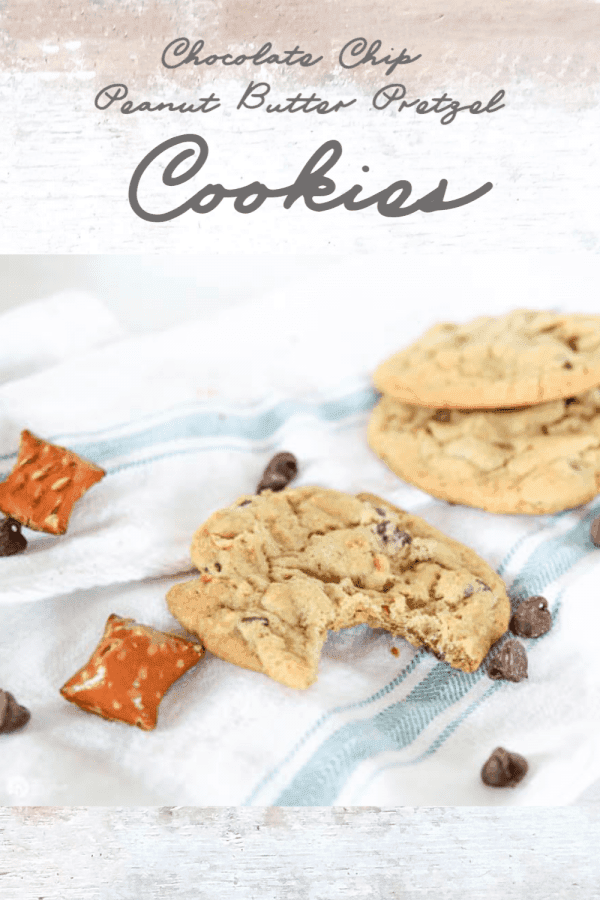 Cookie Recipes
Tried and true cookie recipes
Great for spring and Easter!
Traditional Pumpkin Cookies from an old family recipe book.
This Oatmeal Peanut Butter Chocolate Chip Cookie will become your new favorite.
There's a secret ingredient hiding in this recipe.
Cake Mix Cookies are always delicious!
A favorite combination of chocolate and peanut butter
Photo Credit: www.theidearoom.net
This copycat cookie recipe is what you're looking for.