Fluffy cake-like Pumpkin Cookies with Chocolate Chips and hazelnuts are a fall favorite. Traditional cookie recipe with pumpkin puree, that make soft and chewy pumpkin chocolate chip cookies every time.
Once it's mid-September, all I want are pumpkin recipes! My Pumpkin Crunch Cake and my Pumpkin Cream Cheese French Toast are seasonal favorites in our home as well as these chocolate chip pumpkin cookies!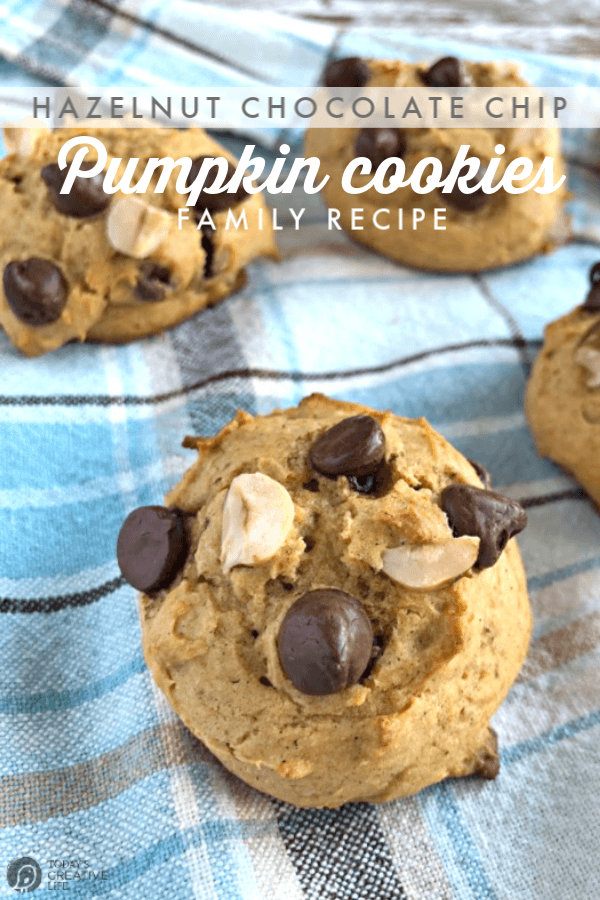 PUMPKIN COOKIES WITH CHOCOLATE CHIPS AND HAZELNUTS
These cookies are fluffy, soft, chewy and cake-like, with a mild pumpkin taste that compliments the sweet chocolate chips and the slightly salty hazelnuts.
I was thumbing through an old family recipe from my husband's side of the family. You know the ones were everyone contributes a recipe? When I came across the pumpkin cookie recipe, I altered a little by adding hazelnuts instead of pecans as well as pumpkin spice, rather than just cinnamon.
These are a great dunking cookie and hold up nicely.
HOW TO MAKE PUMPKIN COOKIES
Like many cookie recipes, you'll start off with the butter, sugar and then eggs, vanilla and pumpkin. After it's all creamed together, you'll start adding in the dry items and fold in the delicious nuts and chocolate chips last.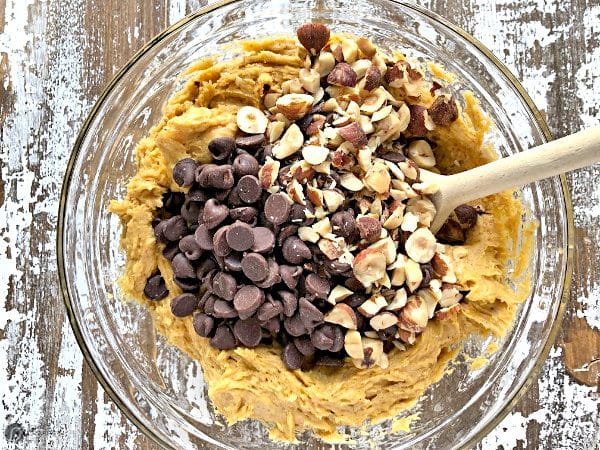 HOW TO BAKE PUMPKIN COOKIES
This cookie dough is a bit wetter than most, which made using a scoop harder. I just used two teaspoons as the recipe suggested.
Prepare your cookie sheet by either greasing it with vegetable oil, lining with parchment paper or using a silicone mat.
Drop by the spoonful about 2 inches apart.
Place extra chocolate chips and hazelnuts to the top if desired.
This pumpkin cookie recipe with chocolate chips and hazelnuts would make great cookie bars too if you wanted to just put it all in a brownie pan. Of course, you'd have to adjust the cooking time, but I bet they'd be delicious!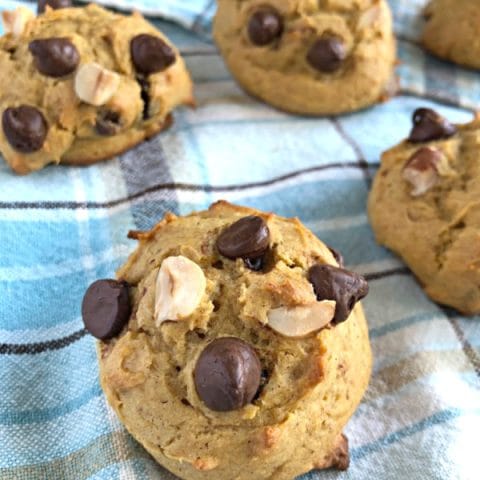 Pumpkin Cookies with Chocolate Chips
Yield: 24
Prep Time: 10 minutes
Cook Time: 12 minutes
Total Time: 22 minutes
Traditional Pumpkin Cookies from an old family recipe book.
Ingredients
1 Cup Sugar
1/2 Cup Butter - room temp
2 Eggs
1 Cup Pumpkin Puree
1 teaspoon Vanilla
2 Cups Flour
1 teaspoon baking soda
1 teaspoon baking powder
1/2 teaspoon salt
2 teaspoons Pumpkin Spice
1/2 Cup Chopped Hazelnuts
1 1/2 Cup Chocolate Chips
Instructions
With an electric mixer, cream sugar and butter together until smooth.
Beat in eggs, pumpkin and vanilla.
In a separate bowl, mix flour, baking soda, baking powder, pumpkin spice and salt together.
Slowly stir flour mixture into pumpkin mixture until well incorporated.
Fold in chocolate chips, and hazelnuts.
Drop by the teaspoon onto a greased or parchment-lined cookie sheet.
Bake at 375° for 12 - 15 minutes
Notes
Any nut can be substituted. Walnuts and pecans are a great option.
Frost with a simple powder sugar frosting if desired.
Recommended Products
As an Amazon Associate and member of other affiliate programs, I earn from qualifying purchases.
PUMPKIN COOKIE RECIPE FAQ
Can you double the recipe?
You sure can! Just simply double the amount of each ingredient. Be sure to use a larger bowl.
Can you make the dough ahead of time and refrigerate or freeze?
I have not tried freezing the dough, but I don't see any reason why you shouldn't be able to. I have placed in the refrigerator overnight and the dough seems a bit airier. The cookies are still delicious.
Can you use different flavored chips or nut varieties?
Yes of course! Whatever flavor you desire. White chocolate chips would be delicious. Walnuts, pecans, macadamia nuts are all great substitutes.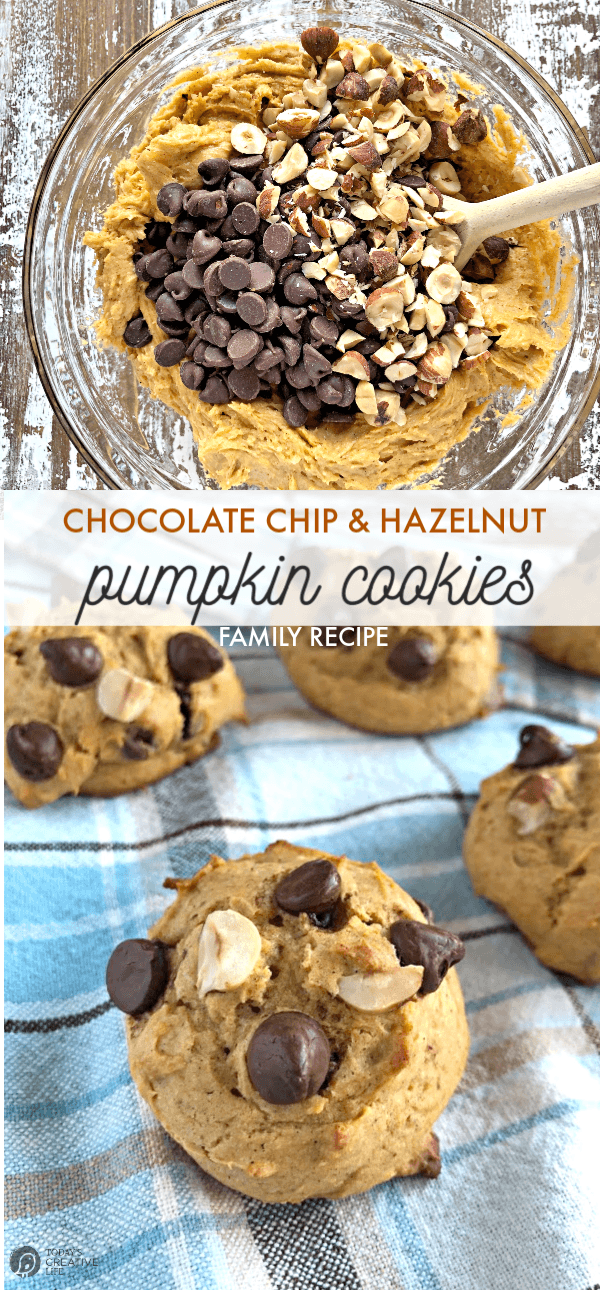 Pumpkin Recipes
Celebrate fall with all the pumpkin recipes!
Delicious with a subtle hint of pumpkin.
Perfect for a weekend brunch.
Easy, Delicious and Impressive!
Never run out of your favorite fall spice. Printable label too!
Pumpkin Crunch Cake is the ultimate cake mix dump cake for fall.
Sticky, gooey and delicious!
DIY body scrub for pampering your skin. Printable tag for gift giving.
Spread this on toast for a delicious treat.
---