With fresh or frozen berries and just a few ingredients, this quick and Easy Blackberry Cobbler Recipe makes a great dessert! Top this fluffy cake-like cobbler with vanilla ice cream and you'll never want anything else!
Blackberry cobbler is a summer tradition in our home! Here in the Pacific Northwest, we have an abundance of wild blackberries just a block away, making it pretty easy to pick a bowl full whenever you need some. Whether I'm baking this cobbler or using the slow cooker, both recipes are easy and always delicious! See my Crockpot Blackberry Cobbler Here.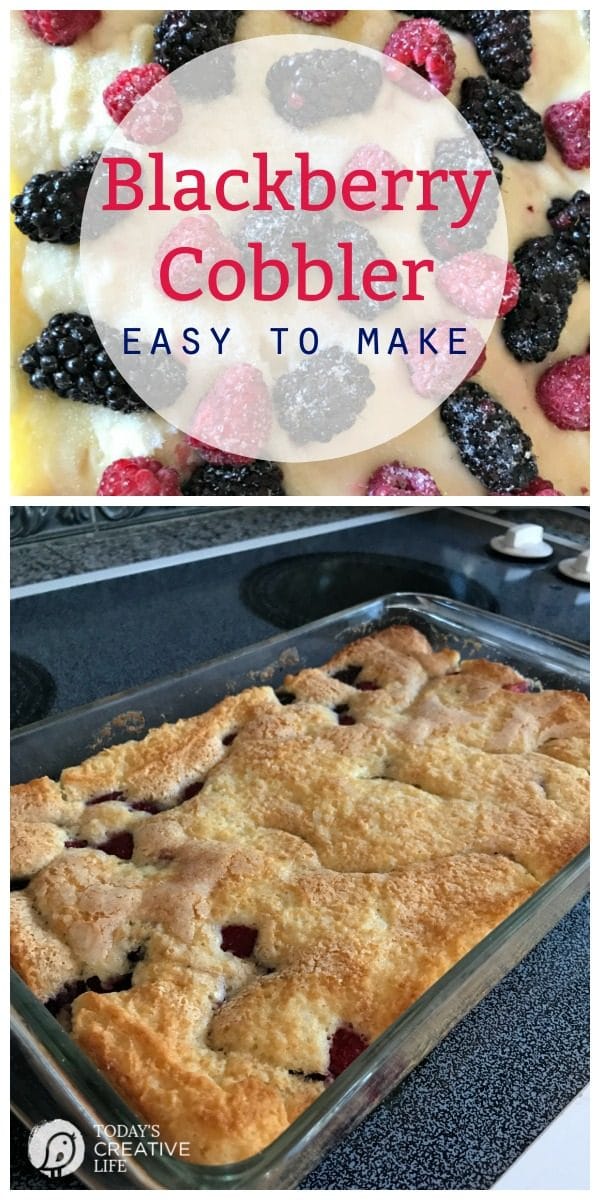 Easy Blackberry Cobbler Recipe
Living here in the NW, we are lucky to have a wide variety of different kinds of berries throughout the summer. I devour the local strawberries straight from the farmers and I only need to walk a few steps out my back door into my yard to pick our very own raspberries and blueberries. I am also lucky enough to have blackberry lined walking trails near my home to pick a few for one of my most favorite summertime recipes.
I use this method in preventing my berries from molding! And this is how I freeze my berries. You'll be so happy!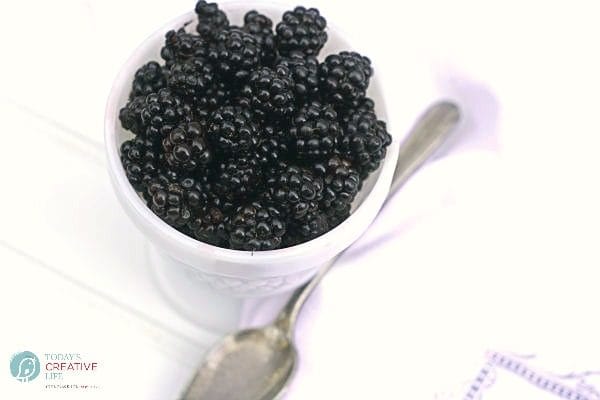 Can I use Frozen Berries for Blackberry Cobbler?
I make this recipe in the winter with frozen berries or pie filling when I'm desperate. Still delicious, but boy can it leave a mess in my oven. All those berries bubbling over can leave a nice reminder in the bottom of my oven that I just baked a yummy dessert.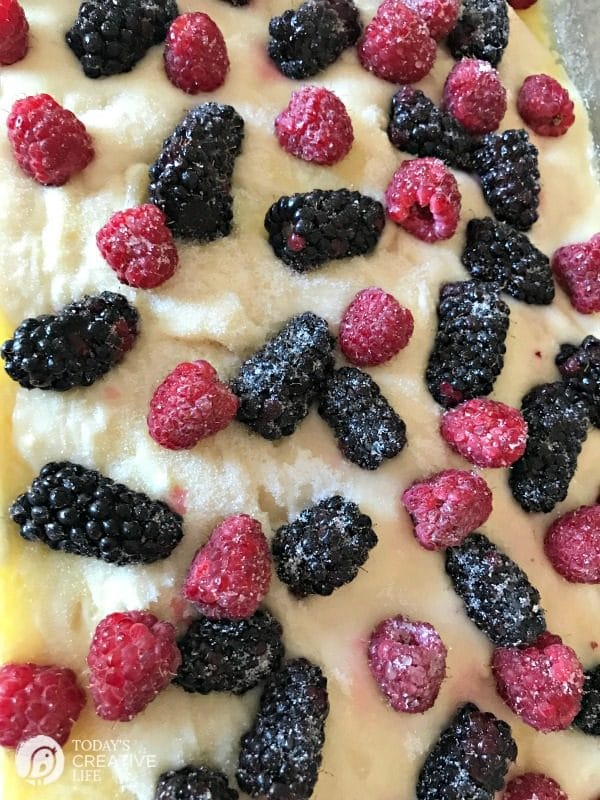 Having a self-cleaning oven comes in handy since I hate using oven cleaner. It just seems so toxic to place inside where I cook my food.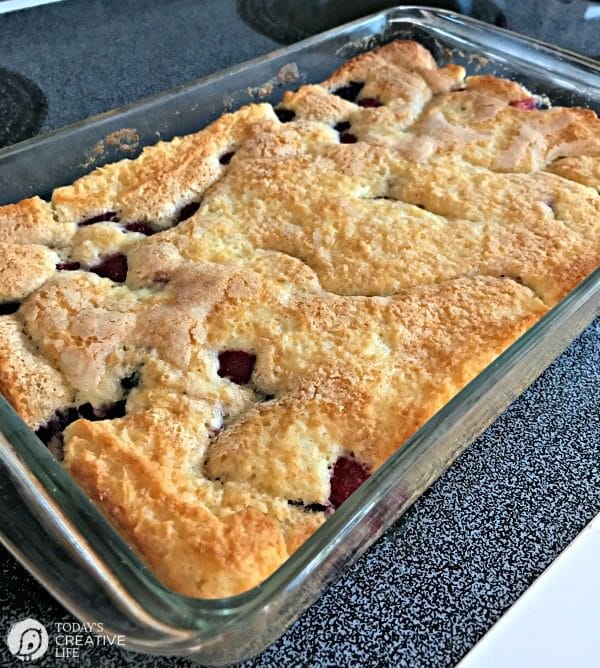 Of course, this is best served warm out of the oven alamode.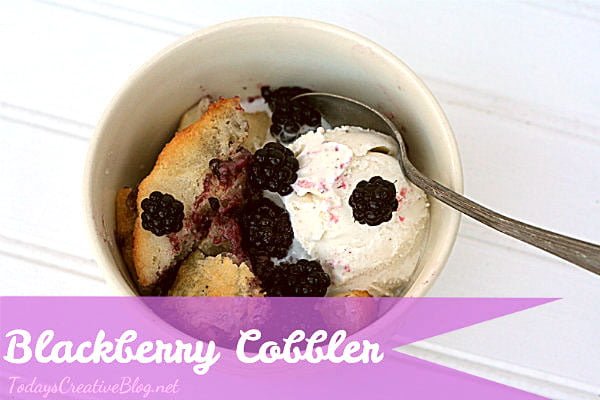 How to Make Blackberry Cobbler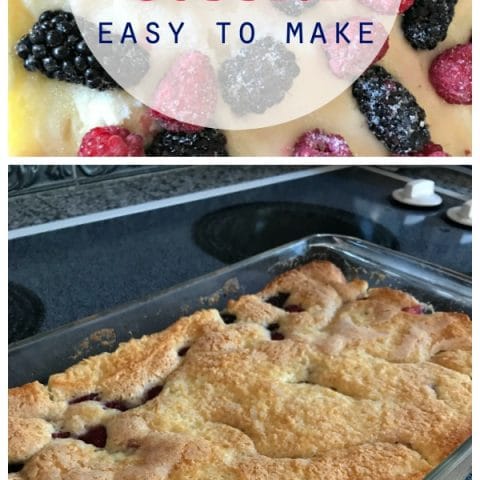 EASY BlackBerry Cobbler
Yield: 8
Prep Time: 10 minutes
Cook Time: 30 minutes
Total Time: 40 minutes
Blackberry Cobbler is easy to make with a cake like topping. Try it with mixed berries.
Ingredients
1 cube butter (1/2 cup)
1 cup sugar
1/2 cup sugar to sprinkle on the top
3/4 cup milk
1 cup flour
1 1/2 tsp baking powder
2 cups blackberries
Instructions
Pour melted butter into the bottom of a 7″x11″ baking dish.
Mix together the milk, 1 cup sugar, flour and baking powder. Pour mixture over the butter.
Do Not Stir.
Sprinkle berries over the batter and butter. Do Not Stir.
Sprinkle 1/2 sugar over the berries. Do Not Stir
Bake at 350 degrees for 30-45 min, or until crust is brown.
Can I Use Other Berries for Cobbler?
Yes! This recipe can be made with any type of berry or even a mixture of berries and as I mentioned, I use frozen or pie filling when fresh aren't available. Experiment, have fun with your food!
Here's to creating messy ovens! It means we've cooks delicious meals.
Fruit and Cobbler Recipes
Cobblers, pies, turnovers and more!
Let the slow cooker do the work!
A new twist on cobbler with coffee creamer.
This summer favorite slab pie is so easy to make!
Is it a dip or a dessert? Or both?
Use canned or fresh peaches!
This rustic pie is much easier than you think!
Breakfast or dessert, you choose!
Tangy and great for summer!
Another impressive looking dessert or breakfast!