Put this Crock Pot Shredded Buffalo Chicken on the menu!
Frank's RedHot Buffalo Wing Sauce
, where have you been all my life? Slow Cooker Sunday just got hot!
I had seen my friend Cheryl from TidyMom.net make buffalo wings, but since I'm not much of a wing girl, I didn't really pay attention. Then I was going to make Shredded Chicken, so I thought I'd try this sauce I keep seeing. This Crock Pot Shredded Buffalo Chicken made the BEST sandwiches! The BEST!  You could use in a burrito instead or even a salad. Again, this shredded chicken recipe is so versatile like the Copy Cat Cafe Rio Shredded Chicken Recipe I make. Both make your life SO easy!
Crock Pot Shredded Buffalo Chicken Sandwiches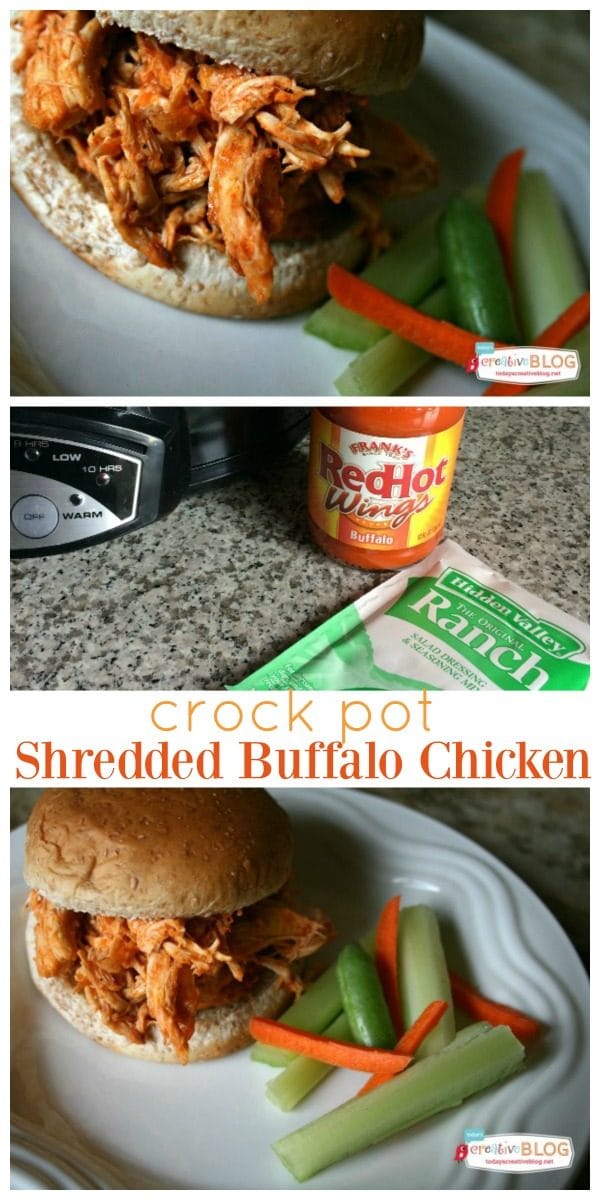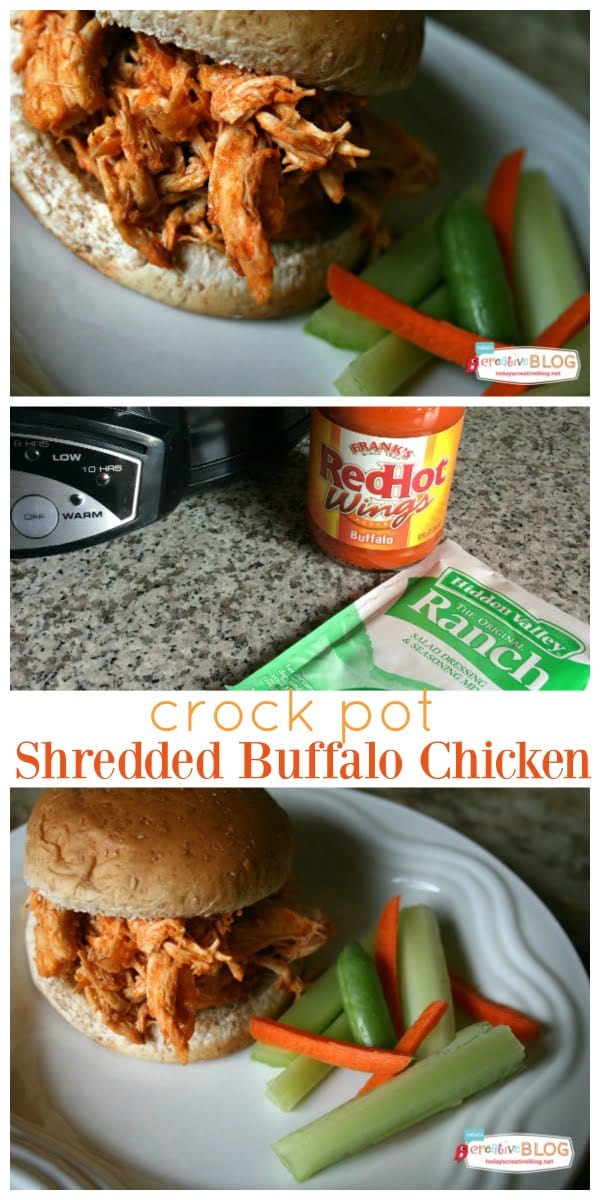 These sandwiches had just enough zing to give it a small kick, but not so much that you're eyes were watering. My teen son ate 3 of them and he's not much into "hot" food.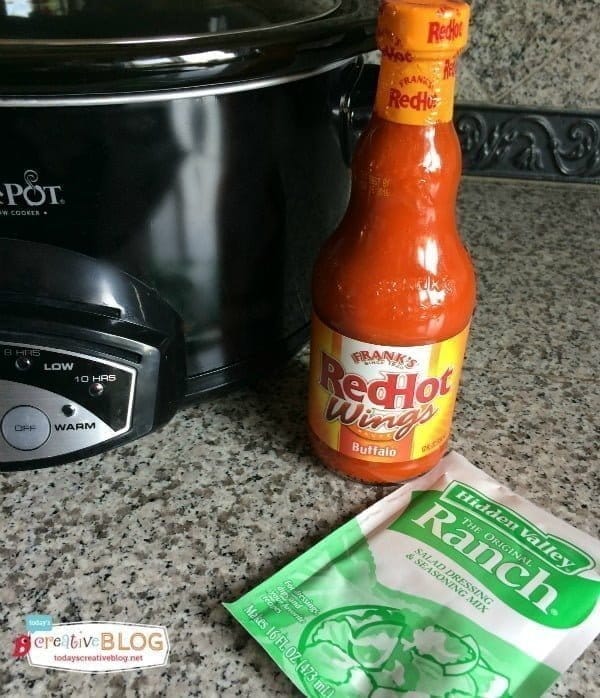 I also love how simple it was. You know I like simple!
I knew we were going to have a late night since we had soccer practice 45 minutes away from home and practice wasn't going to be over until 8pm.  (you may have caught my tirade on instagram while I sat in a creepy parking lot waiting for my perfect child) I was able to put 4 chicken breasts in the crockpot on low around 3:00pm and they were ready in just a few hours. These were thinly cut breasts and I used my large crockpot, which I think cooks faster when it's not full.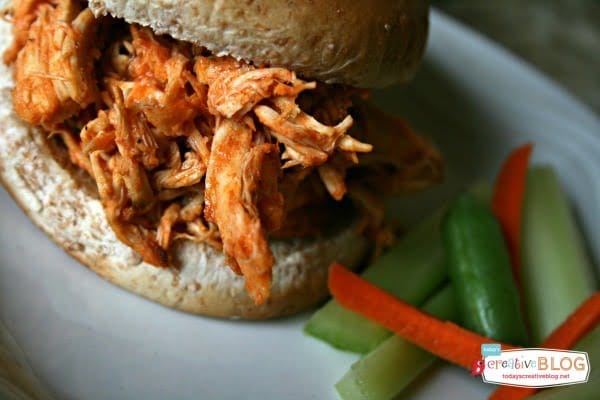 They really hit the spot after a cold soccer night and I had enough left over for a sandwich the next day. We got about 6 sandwiches out of it.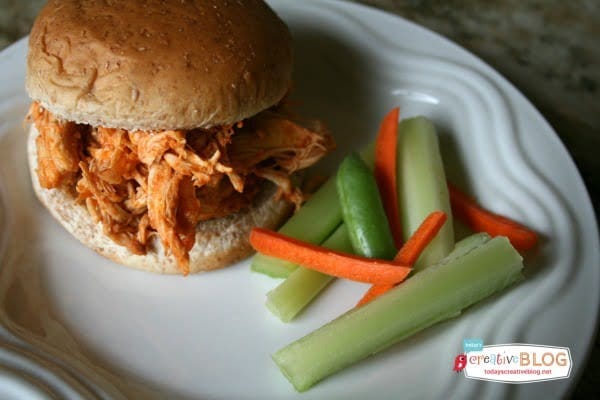 This recipe is not for food purists. It's like my Crock Pot Mississippi Roast and uses the packaged ranch dressing. But boy do they both make a delicious meal! The Mississippi Roast is also great for shredding and using for burritos. It's my husbands favorite roast.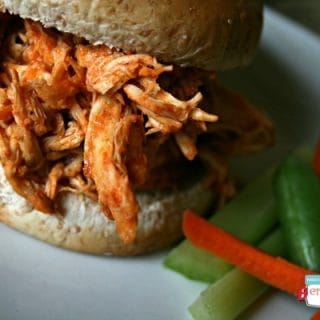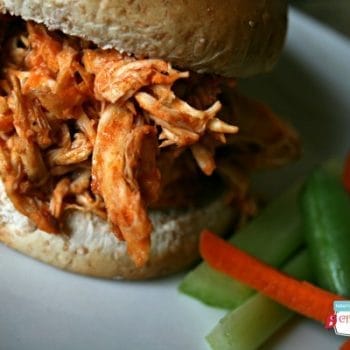 Crock Pot Shredded Buffalo Chicken
Ingredients
4 Chicken Breasts - Skinless, boneless
1 (12oz) bottle Franks Red Hot Wings Sauce
1 package of Ranch Dressing Mix
2 tablespoons butter
Hamburger Buns
Instructions
Place the chicken, the sauce and the ranch dressing into your crockpot. Stir around a little to mix it up. Cover and cook on LOW for 6-7 hours.
Once the chicken is done, add your butter and then shred. I use two forks, pulling the meat apart. Stir into the juice to make sure the chicken is well coated with the sauce.
Serve on hamburger buns.
You can add lettuce if you'd like or just eat it plain.
Enjoy!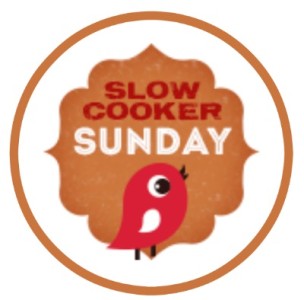 ---