With just 3 items you can make this DIY Tabletop Fire Bowl to enjoy on your patio or outdoor space.
You are going to LOVE this simple project for your patio or deck! We love hanging outside on my deck, in my outdoor room, or out by our new outdoor fireplace! Everyone needs an outdoor space they can enjoy, whether it's a balcony or large patio, easy DIY garden projects make it better. My tutorial on DIY Mason Jar Solar Lights are another simple project for all outdoor spaces.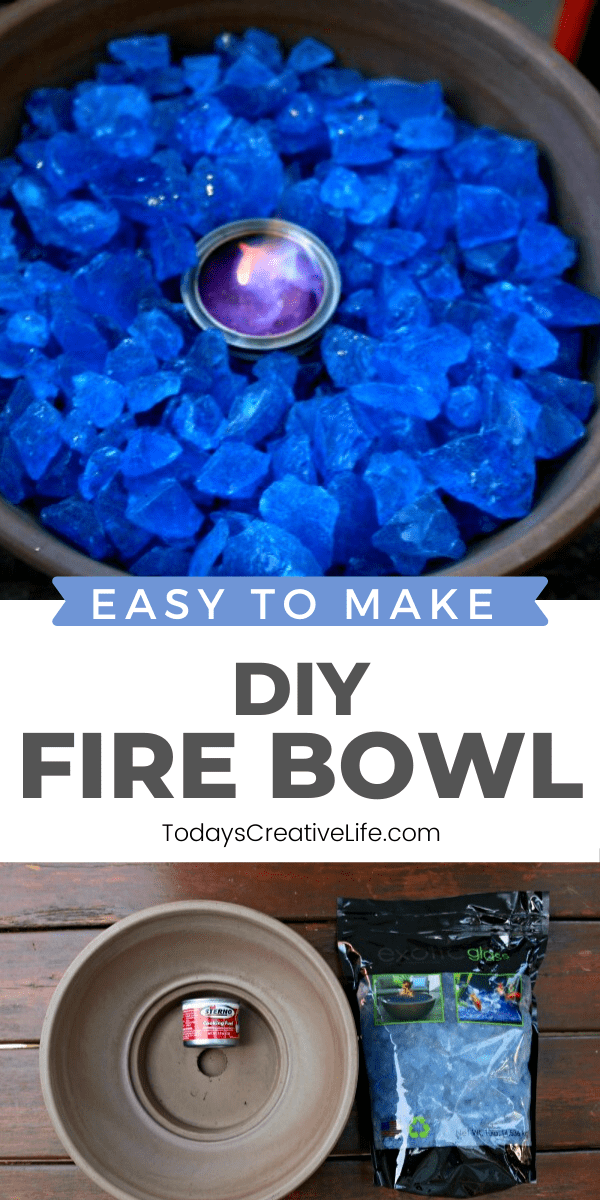 DIY Tabletop Fire Bowl Project
This easy DIY fire bowl project is great for placing on your deck or patio. It gives off a great ambiance and you can even made S'mores.
It was one of the easiest outdoor projects I've done! It couldn't be easier! You only need 3 items and you're ready to go.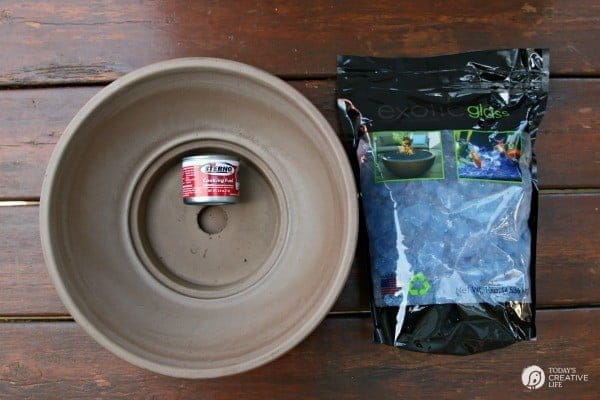 DIY Tabletop Fire Bowl Supplies
Fireproof container – I used a wide top terracotta flower planter.
Fire Glass or Rocks – When I couldn't find the specialty glass at Lowes, ordered it at a ridiculous price, only to realize I could have used leftover pea gravel I had in my outdoor potting area. So, unless you need a certain color, save your money and use any type of rock.
Clean burning gel – grab the food safe variety if you plan on using for roasting marshmallows.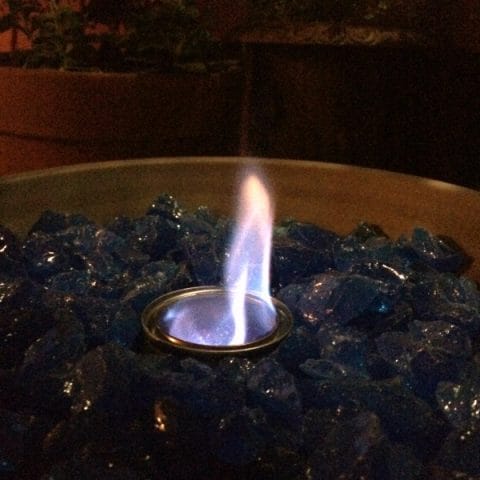 How to Make a Tabletop Fire Bowl
Yield: 1
Active Time: 10 minutes
Total Time: 10 minutes
Difficulty: Easy
Estimated Cost: $15
EASY TO MAKE OUTDOOR GARDEN DECOR!
Materials
Fireproof Container like a terracotta planter or galvanized bucket.
Fire Glass, Pea Gravel or Small Rocks
Sterno Clean Burning Gel - get food safe if you plan to use it for roasting.
Instructions
Gather your supplies.
Fill container 3/4 full with rock or gravel.
Position and wedge the burning gel can in the middle.
Take the lid off to light. Replace the lid to extinguish.
Notes
Use outdoors only. Use common fire safety guidelines when using.
Recommended Products
As an Amazon Associate and member of other affiliate programs, I earn from qualifying purchases.
I thought the rocks were going to be smaller and didn't expect them to be big chunks, but what's a girl to do?
I had a small wide flower bowl I also picked up from Lowe's and used a 10lb bag of the rocks. I didn't think it would be enough at first, so I filled the bottom with pea gravel, then topped it off with the blue fire glass. I loosened the lid of the sterno can and then wedged the can into the center. I found the gel flame cans at my local Fred Meyer in the camping section.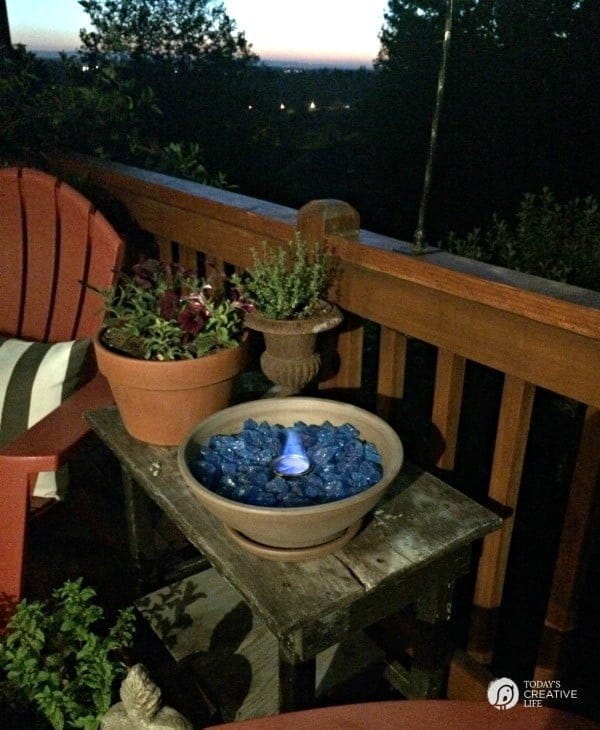 Can You Use Other Rocks for a Tabletop Fire Bowl?
Small River Rock
Gravel
Pea Gravel
Any hard non-flammable material will work great. The fire isn't in direct contact like it would be for a natural gas fire pit and there is very little heat generated.
The fire glass is beautiful and it worked well, but it's expensive.
And I hate to admit it, but the pea gravel looked more my style and would have worked great……and here I already had a full bucket in my potting area.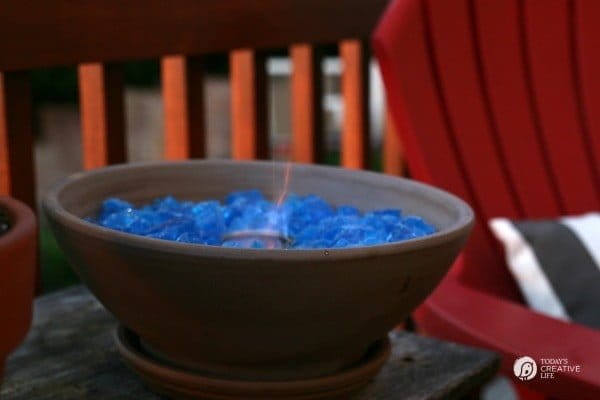 Can I Roast Marshmallows with a Tabletop Fire Bowl
Outdoor fires and S'Mores go hand in hand, so you know someone will want to know if they can make one.
As long as you use a burning fuel that is also safe for this purpose, you're good to go. The flame is small, so if you have a few people, you may consider getting more than one can.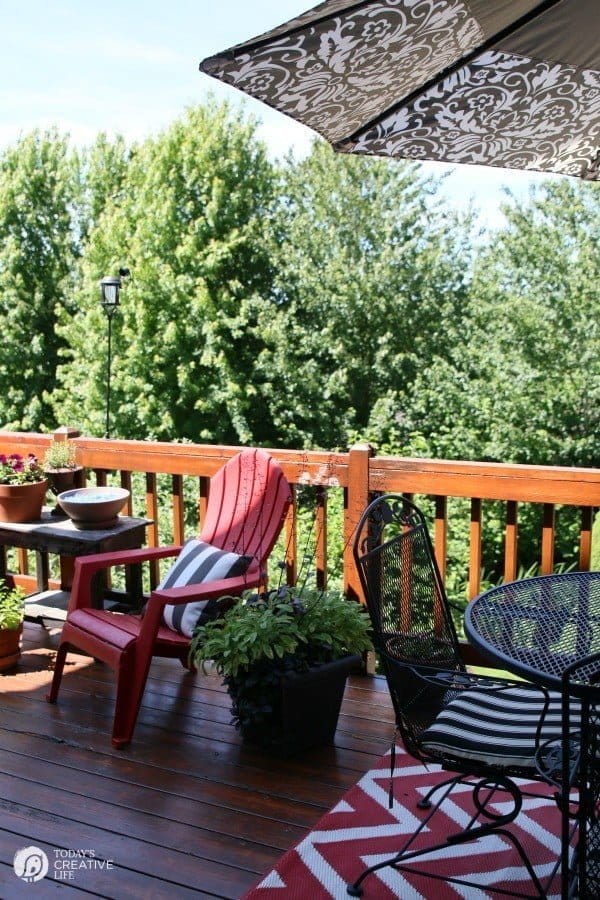 Can I Make a Larger Firebowl?
When wanting to make a tabletop fire bowl, you'll need to consider where you're using it and if it will be safe.
If you want a larger one you can use a larger galvanized tray or tub if wanted. As long as the container is fire safe. You may consider a DIY Firepit instead.
How to Put the Fire Out on a Fire Bowl
Because it can burn for hours, you may want to put it out on your own. You cannot blow on it like a candle. To extinguish the flame, use tongs to place the lid back on. It goes out immediately.
DIY Projects for Outdoor Living
Easy DIY Ideas for Outdoor Living. You'll find many stylish projects to create a better backyard.