You'll love these Easy DIY Home Decor Ideas that I've gathered. It doesn't have to be expensive to decorate your home and I'm proof of that! You can also repurpose an item into something more your style!
Easy DIY Home Decor Ideas
There was a time not to long ago that all my furnishings were either from a thrift store or garage sale. My favorite is the thrill of the hunt in finding items to decorate my home with. I'm also always looking for ideas that I can make to add personal style to a room. As I've said many many times, I'm not the "I'll have what she's having" type of decorator. Not that what she has isn't great. But I love blending things from many different places to style and gather my look.
Decorating a Room
Last October when I was invited to the La-Z-Boy Design Dash to decorate a room, I was so nervous. I'm not a quick decorator. I was afraid I'd be paralyzed by all the choices and end up with a hod podged room lacking style and comfort. Luckily, it was fine.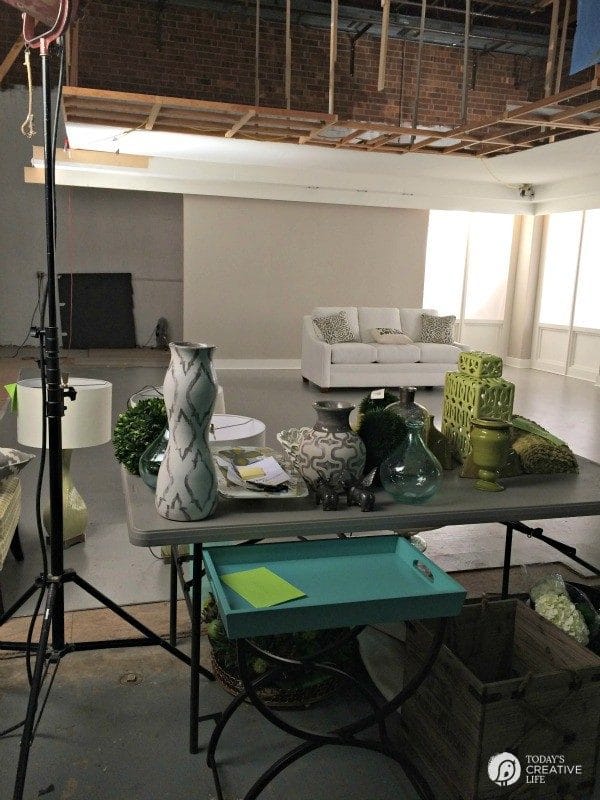 It was a great time, which was challenging under the circumstances, and ended up LOVING my room. You can see my room and read more about my experience here. Obviously I didn't make anything for this room, but I used my own DIY skills to create a room that I loved. I don't really pay attention to design rules, unless it's the odd number rule of decorating in threes or fives when using more than one item. Go with your gut. Go with what feels good to you. You're the one living there and if you love it, then go with it.
The real message is, you can create Easy DIY Home Decor in so many ways. I'm sharing a few links of my favorites.
---
20 Easy DIY Home Decor Ideas
The EASIEST DIY Upholstered Bench [Today's Creative Life]
DIY Concrete Block Bookshelf [The Crazy Craft Lady]
DIY Frame Shelves [Shanty2Chic]
DIY Cloche Jars†[Today's Creative Life]
DIY Glittered Jar [Today's Creative Life]
DIY Swag Lamp Designer Shade [Say Not Sweet Anne]
DIY Window Curtains [Designer Trapped in a Lawyer's Body]
DIY Curtain Tie Back [Penny Pinchin' Mom]
How to Make Crafty DIY Bowls [DIY Joy]
DIY No-Sew Throw Pillows [An Exercise in Frugality]
DIY Colorblock Clipboards [Today's Creative Life]
Free Kitchen Art Printables [Today's Creative Life]
DIY Vintage Tag Wall Art [Today's Creative Life]
Easy DIY Rustic Home Decor Sign [Say Not Sweet Anne]
Easy DIY Wall Art Project Idea with Paint & Paper Stock [It All Started With Paint]
How To Make A Stylish Photo Frame For Several Photos [Shelterness]
DIY Pallet Plaques [Oh My! Creative]
DIY Washi Tape Wall Art [Today's Creative Life]
How to Create a Mason Jar Organizer [The DIY Playbook]
DIY Menu Board [The SITS Girls]
---
If you find your self stymied, pick up a couple of my friend Melissa's books. Love the Home you Have or Make Room for What You Love. Both great books with easy to follow common sense for Easy DIY Home Decor ideas.
Follow my Pinterest Boards. Here's my Kitchen board below.
This post contains affiliate links for items listed. This cost you nothing extra. If you decide to purchase anything resulting from these links, I'll receive a small percentage that will cover maybe my Venti Iced Green Tea at Starbucks. Thank you for your support. Placing affiliate links and any ad really, allows me to continue to offer free tutorials and access to my site.