Using free printable holiday gift tags can be a fun and easy way to add a personal and festive touch to your holiday gifts. Whether you are giving gifts to friends, family, or co-workers, printable gift tags can help to make your gifts feel more special and memorable. Head to The Printable Vault for all free printables. Subscribe here if you need access and your password will be sent to you.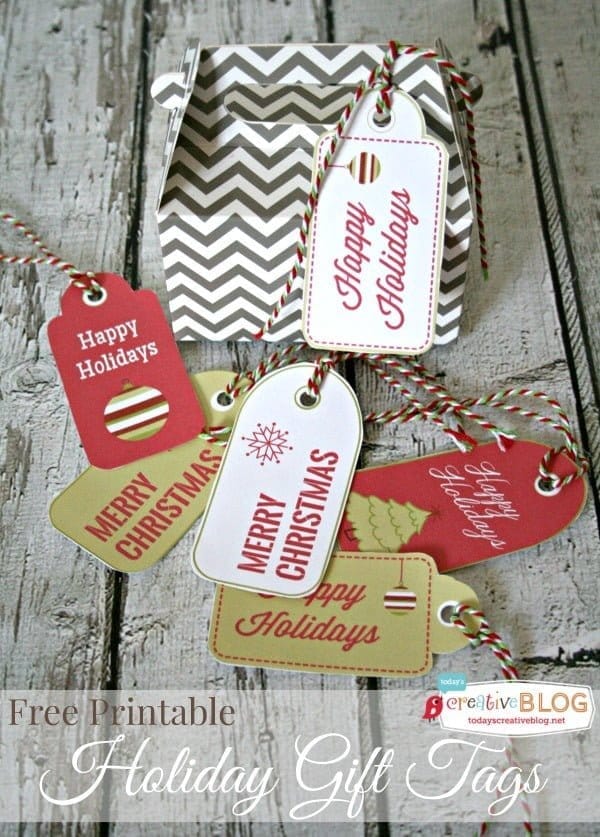 I was so happy to hang out with Jen, she's been a good friend for a few years!
Printable Holiday Gift Tags
SIGN UP FOR FREE PRINTABLES BELOW
ALREADY have your password? Head straight to the Free Printable Vault.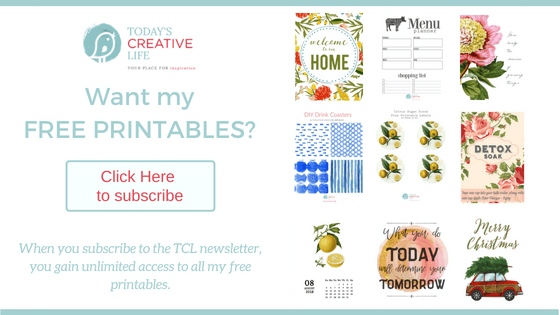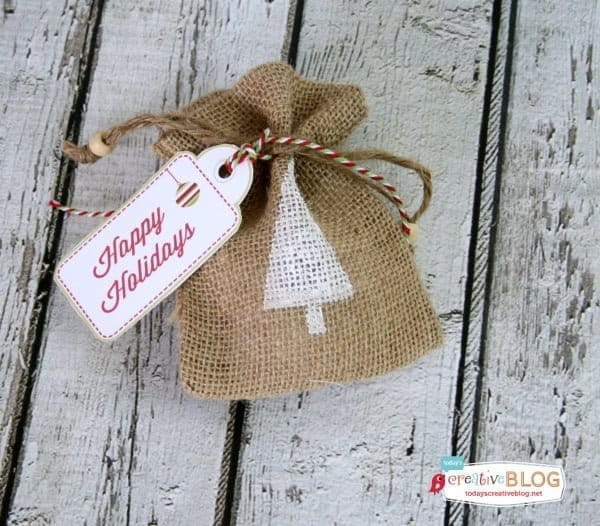 People either LOVE wrapping presents, or they hate it! I'm somewhere in the middle.
I always have grand plans, with a color scheme, then my husband didn't get the memo and wraps a bunch in other paper. I'm happy he's wrapping……so now what I've done, is removed ALL the wrapping paper I don't want under the tree. I try to have everything set out in a wrapping station downstairs, so no matter what he grabs, it's going to look fabulous under the tree.
These adorable tags will match so many styles. I am loving them, printed on white cardstock and used with the Stamped Burlap Bags. Check out all my printables. I also have Chalkboard printable gift tags that you'll love.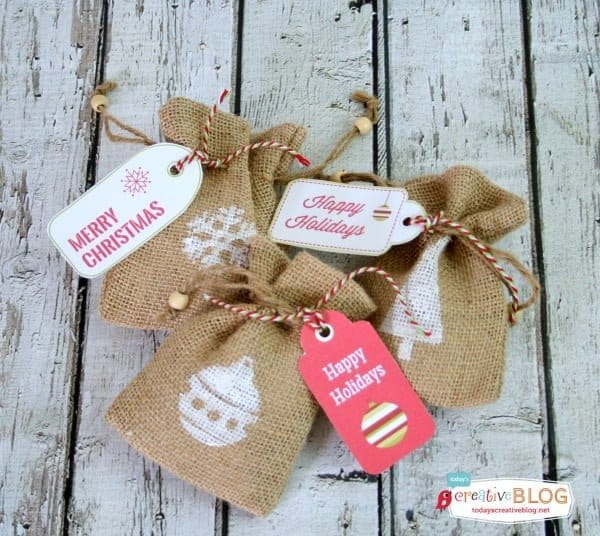 The pop of color against the burlap gives it a festive holiday look, don't you think?
All you need:
Printer
Cardstock – I used white, but I'm thinking Kraft would give them that rustic look.
scissors
Bakers Twine
paper punch
Simply download the design. Open the design up on your computer. Print, cut labels out with scissors, punch a single hole and thread twine or ribbon through.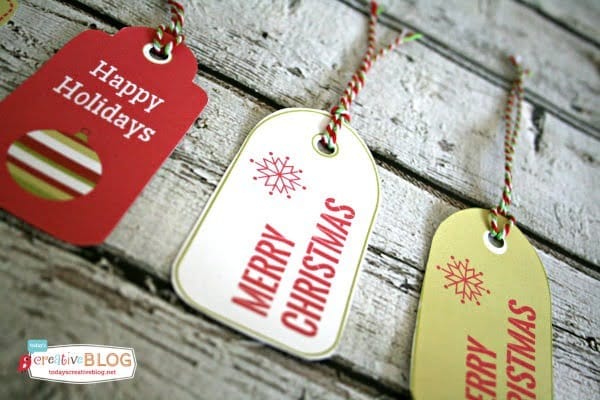 Having printable tags, makes wrapping gifts more personable and fun. Not to mention EASY!
Stock up on cute pillow boxes, gift boxes, burlap bags, cotton bags etc… for quick gift wrapping ideas. Having a variety of items on hand is key.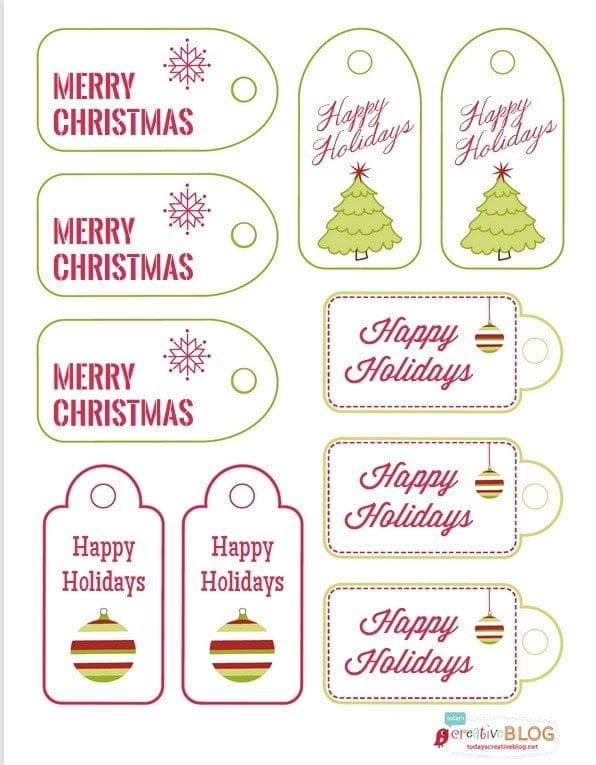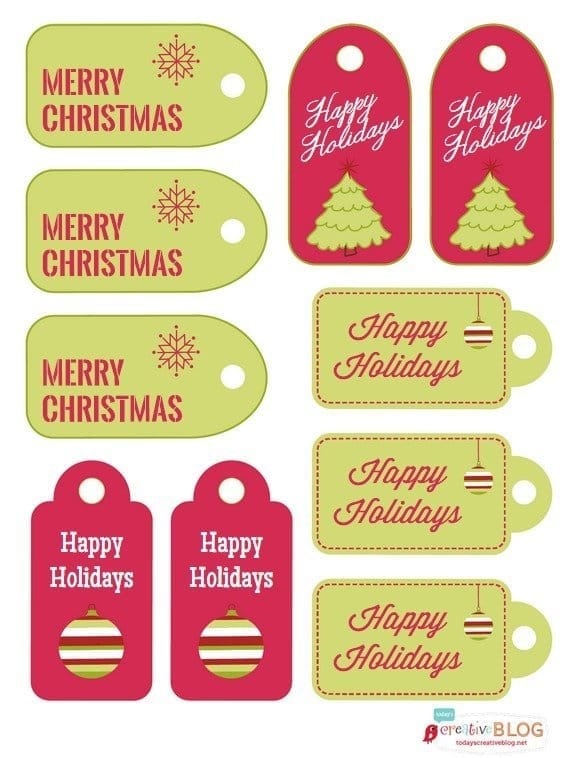 DIY Holiday Decor
Easy DIY ideas for creating your own Christmas decor.
Easy to make holiday craft for Scandinavian Evergreen Stars.
Vintage Rustic porch ideas for Christmas.
Easy to make Christmas pillows using iron-on vinyl and a pillow cover.
Homemade white clay ornaments are fun and easy to make for holiday decorating.
Drying oranges is a holiday classic. How to make Dried Oranges in the oven for holiday decor, potpourri and gift wrapping.
Free Printable Merry Christmas paper tag banner adds quick DIY holiday decor.
Easy to make felted wool ball pom-pom winter pillow cover.
Easy to Make Holiday Ornaments using chip board or cardboard
Easy to make Christmas luminaries with cedar and cranberries.
Use your Cricut Cutting Machine to make holiday snow topped paper houses.