You'll love these FREE Halloween Printables: Halloween Lunch Notes from Creative Contributor, Marlynn. Printable Halloween lunch box notes are a great way to add some fun and excitement to your child's lunch for one of their favorite holiday events!
Sure, Halloween can be spooky, scary, and ghoulish, but for many little ones, it's still a fun and silly time. I love that my kids are still young enough to enjoy dressing up in non-gory costumes and that they still choose innocent fun over the nightmarish fright.
A few years ago, I designed a set of Lunchbox Love Notes, small little notes with encouraging sayings on them, that I placed in my own kids' lunch boxes, and then offered free printables to share. I then designed some Silly School Slips that were similar to the Lunchbox Love Notes, but instead of encouraging statements, they had fun little child-friendly jokes on them that could bring smiles to their day. So this year, I thought it would be fun to design something similar, but specifically for Halloween!
Free Halloween Printable: Halloween Lunch Laughs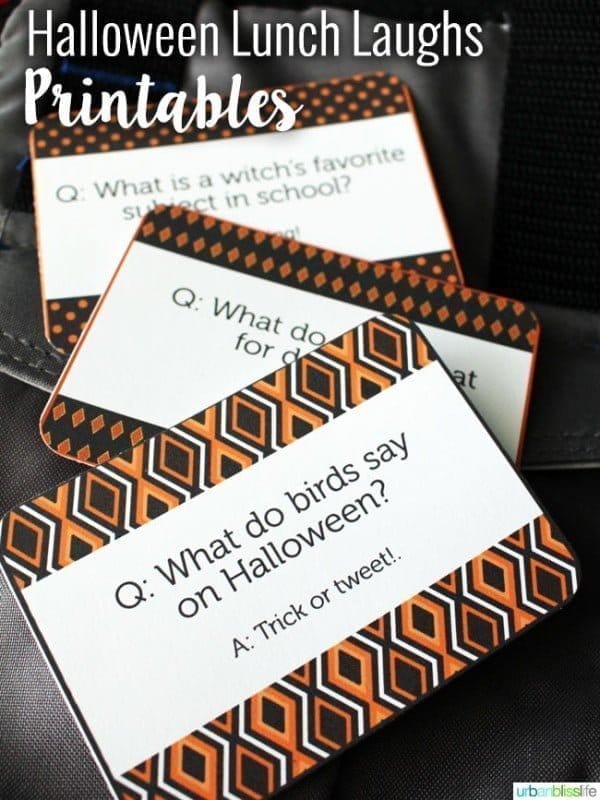 For the younger set who still enjoy little love notes in their lunchbox from Mom or Dad, I've designed a set of Halloween Lunch Laughs: a free printable full of Halloween jokes that are appropriate for little ghosts and goblins.
There are six different kid-friendly jokes on orange and black patterned cards.
SIGN UP FOR FREE PRINTABLES BELOW
ALREADY have your password? Head straight to the Free Printable Vault.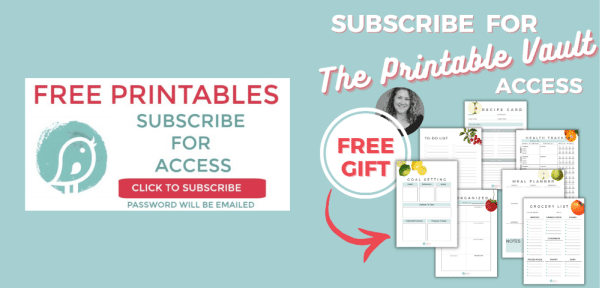 How To Make Free Halloween Printable Lunch Box Notes
You'll need the following supplies:
Download the file to your desktop.
Print out onto thick white cardstock paper.
Cut out around the edges of each card. I use a paper trimmer and a rounded edge corner punch, but you could also use plain old scissors.
That's it! Super simple, and it's FREE!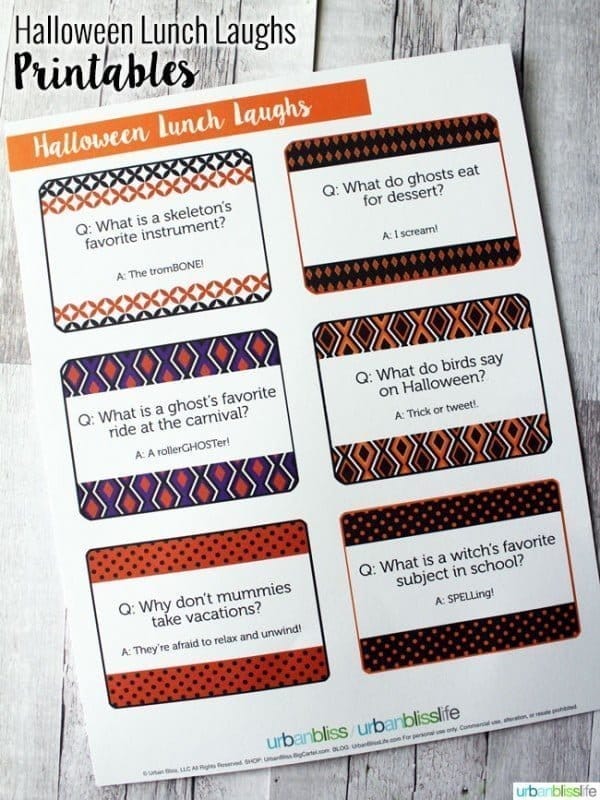 I wanted to include jokes that were silly but not too complicated so that little ones would get them right away but still find them funny enough to make them smile.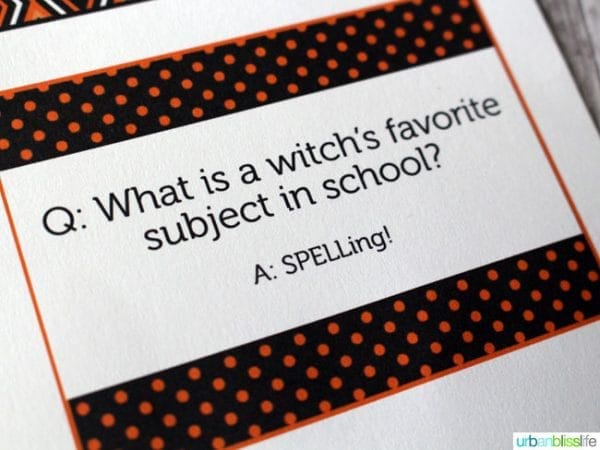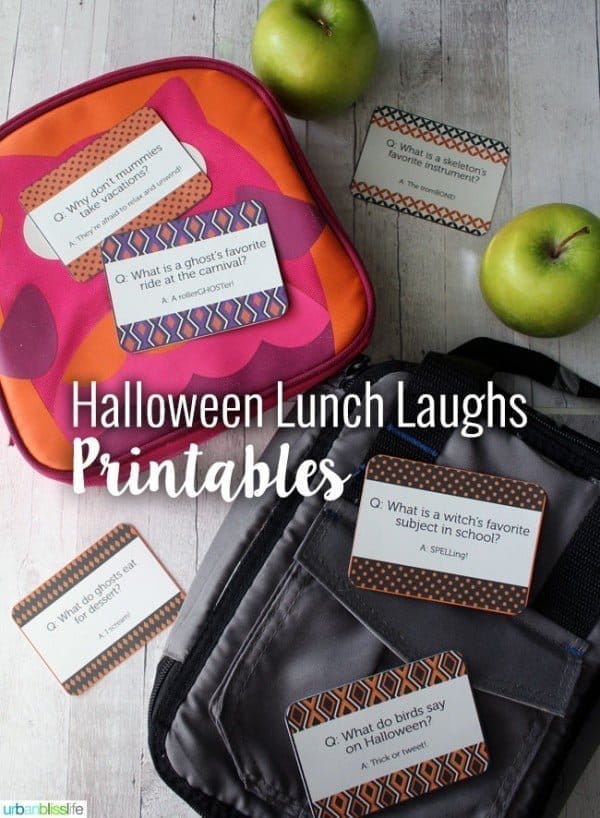 I can't wait to put these in my kids' lunchboxes during the week leading up to Halloween! Now, I'm off to put together some Halloween goody bags for my youngest child's class party.
If you're looking for more Halloween printables, be sure to visit my website UrbanBlissLife.com for some fun class party games, treat wraps, and other Halloween Printables, like these below.
I hope you and your families all enjoy a very Happy Halloween!
---
Free Halloween Printables
Easy and fun kid's activities with free Halloween printables. Printables are located in the Printable Vault where subscribers have free access. Subscribe here.
This Halloween countdown is a fun activity to do as a family activity.
Make your Halloween party stand out with printable cutlery pouches.
Get the whole neighborhood in the Halloween spirit with this fun Boo game.
Grab this free printable and make your own Halloween candy bags!
Print for the classroom, playdates or as a family fun activity.
Easy inexpensive DIY seasonal Halloween decor you can print.
Wrap bottles or jars for quick Halloween decorations.
Learn how to make printable poster wall art for easy DIY Halloween Decor Ideas.
Print your own full-size candy bar wrappers for Halloween.