You know how I LOVE easy DIY projects right?  Especially if they're home decor. I made these super simple DIY Mason Jar Solar Lights in the spring and showed them on my monthly morning segment on AMNW as part of the DIY Mercury Glass projects.  I have a few around my patio and have fallen in love with the look.  I can't believe I haven't shared them  yet.  I remember seeing something similar from another blogger last year and vowed to make them this year for my patio!  It actually happened. These are SO simple.
Of course you don't HAVE to spray paint the jars.  I have some with my diy mercury glass look and some just plain.  That way after the warm season, I can use my jars for something else if I wanted.
How To: DIY Mason Jar Solar Lights

You'll need the mason jars with a wide mouth.  I tried using those adorable new blue mason jars, but the jar mouth was too small. If you can find a smaller solar light, it would work.  Solar yard lights. There are so many types and sizes. Mine are the cheapest ones I could find and I found them at Lowes.   Looking Glass Spray Paint
 – If you're wanting to make them look like mercury glass, then you'll want this Spray Paint

See the tutorial here.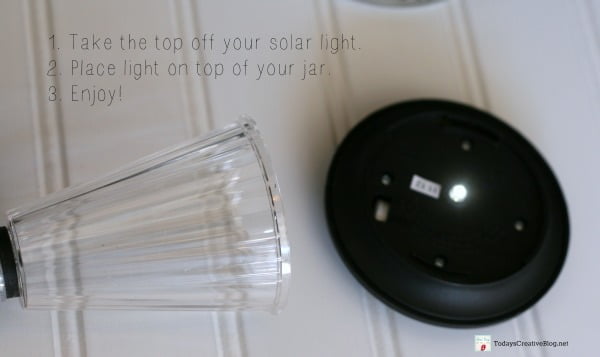 Unscrew the top of the solar light off and simply place the light on top of the jar. It just sits on top.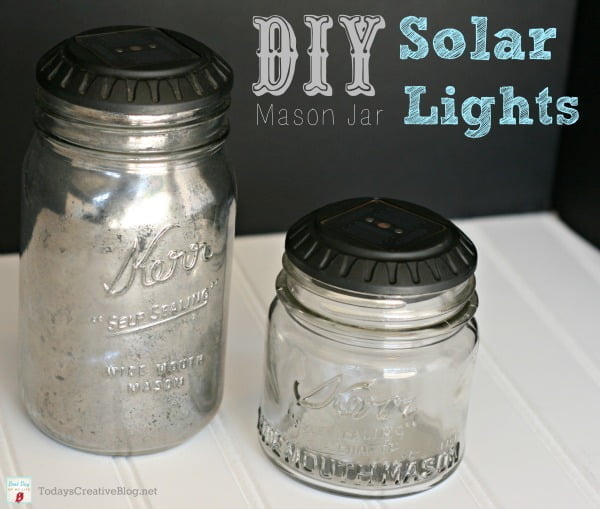 For fun variations, you can try placing decorative items in the jar……..like glass beads. Anything that may reflect off the light.
Simple, quick and looks great! My kind of project!