The time has hit. Busy evenings with sports, school events and whatever else gets in the way. But I've got your back! I've gathered 20 Slow Cooker Recipes that are perfect for busy families!
20 Slow Cooker Recipes Perfect for Busy Families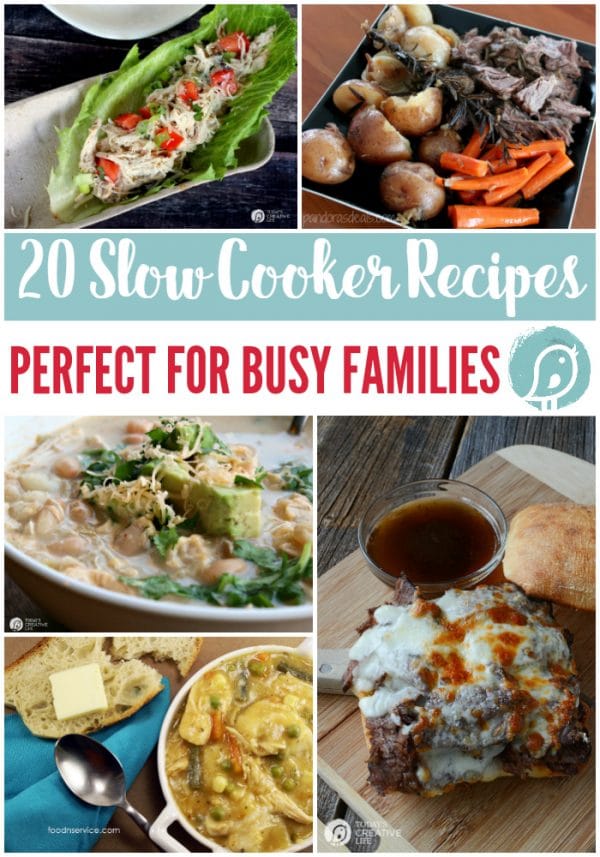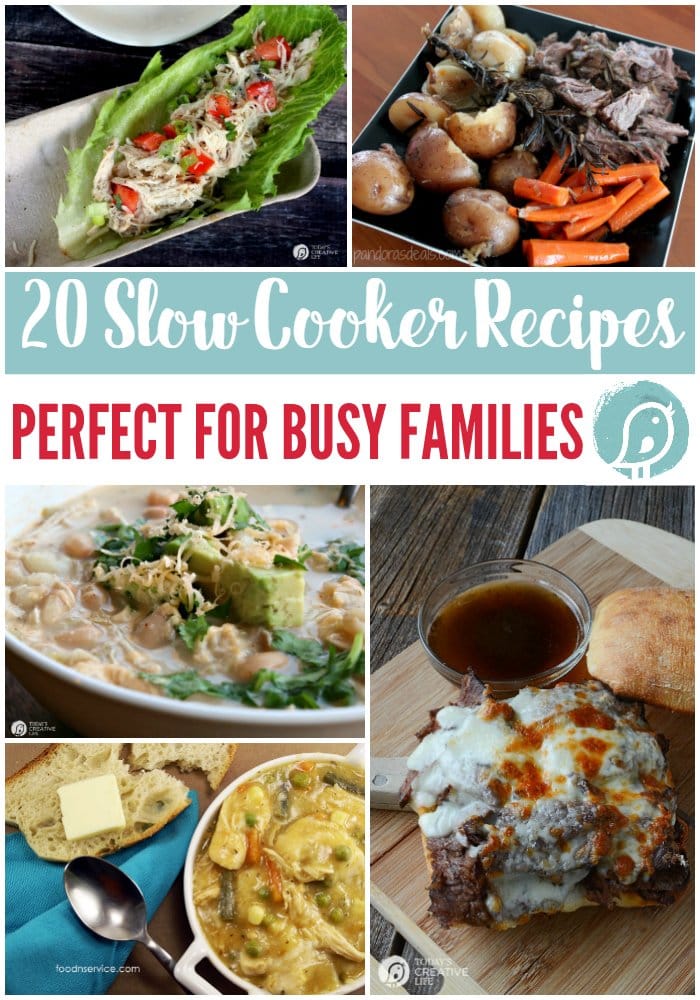 Some are my own recipes from my Slow Cooker vault, where I should mention that, you'll find so many crockpot recipes for main meals, desserts, drinks, heck…. I've even made candles in my slow cooker.      
Find each recipe by clicking on the recipe title.
White Chicken Chili [Today's Creative Life]
Slow Cooker Lasagna [Living Sweet Moments]
Slow Cooker Pizza Pork Chops [A Few Shortcuts]
Slow Cooker Stove Top Chicken [Saving the Family Money]
Easy Slow Cooker Saucy Chicken 'N Cheese [Simply Southern Mom]
Slow Cooker Mac & Cheese [Merlot Mommy]
Easy Slow Cooker Sweet & Sour Meatballs [Horshoes & Handgrenades]
Slow Cooker Roast Beef Dip Sandwiches [Today's Creative Life]
Easy Slow Cooker Pot Roast Dinner [See Mom Click]
Chicken Lettuce Wraps [Today's Creative Life]
Slow Cooker Fiesta Chicken Soup†[Kasey Trenum]
Crockpot Chicken And Dumplings [Food'n Service]
Slow Cooker Chile Lime Pork Tacos [Penney Lane]
Crock Pot Lemon Rice Soup [Dish About It]
Crockpot No Boil Baked Ziti [Thrifty Jinxy]
Slow Cooker Turkey Meatloaf [Mama of 3 Munchkins]
Slow Cooker Caesar Chicken [Today's Creative Life]
Slow Cooker Pork Ragu With Gnocchi [My Suburban Kitchen]
Slow Cooker Chicken Tikka Masala [Jenna's Everything Blog]
Slow Cooker Ribs [Mindfully Frugal Mom]
I think some of my favorite things to make in my slow cooker are soups and dump cakes. I love having soup in the fall and winter, with a piece of crusty bread and a salad. Sometimes, I'm a rebel and just have the soup and bread. The dump cakes are great in the summer, because you don't have to heat up your oven just for dessert. Let your slow cooker do the work.