The time has hit. Busy evenings with sports, school events and whatever else gets in the way. But I've got your back! I've gathered 20 Slow Cooker Recipes that are perfect for busy families! Family-friendly dinner ideas make the whole family happy!
20 Slow Cooker Recipes Perfect for Busy Families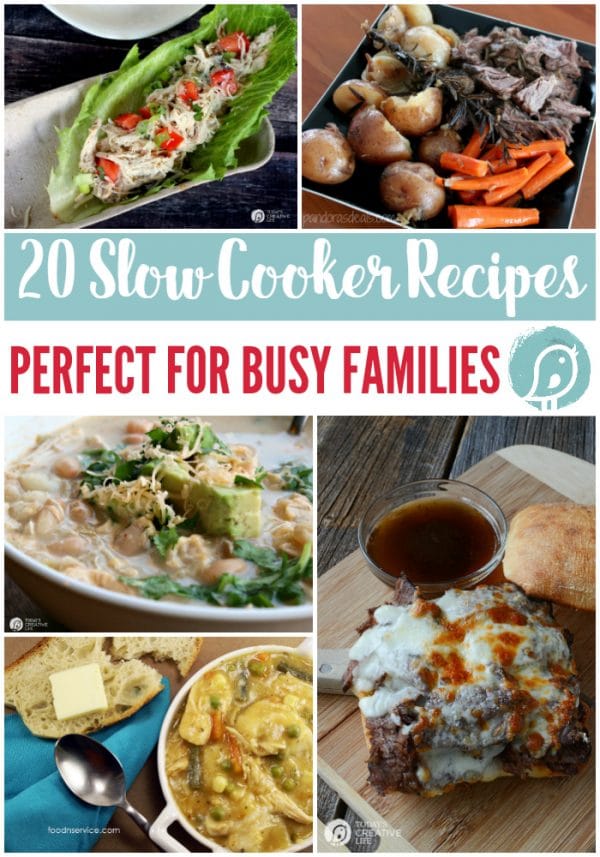 Some are my own recipes from my Slow Cooker recipes archives, where I should mention that you'll find so many crockpot recipes for main meals, desserts, drinks, heck…. I've even made candles in my slow cooker.
I think some of my favorite things to make in my slow cooker are soups and dump cakes. I love having soup in the fall and winter, with a piece of crusty bread and a salad. Sometimes, I'm a rebel and just have soup and bread. The dump cakes are great in the summer because you don't have to heat up your oven just for dessert. Let your slow cooker do the work.
20 Crockpot Dinner Recipes
Dinner is saved with these 20 slow cooker dinner ideas.
Why Crockpot Dinners are Good
There are so many reasons why using your slow cooker for dinner is a great thing.
Busy Families – If you've got school-age children, using your crockpot to have dinner ready makes your afternoon and evening go smoother. Afternoons get crazy with after-school activities, homework, etc… No more panicking at 4 pm about what to have for dinner. Knowing you have dinner planned and figured out completely saves the day!
Multiple Schedules – If you're all arriving home at different times, a crockpot dinner is great. Dish up when you're ready, place the slow cooker on warm for the next person. Many crockpot recipes can be assembled in the morning before you leave and it's ready when you arrive home. No more cooking dinner when you're tired from work.
No Heating Up the House – Slow Cooker dinners are great on those hot summer days. Why heat up the kitchen and besides, no one wants to cook when it's hot.
Save Money – You can assemble several crockpot dinners and freeze ahead of time so you always have something ready whenever you need it. This was great for my college son. We'd assemble about 20 meals together for him to take back to school. Dinner would be ready when they all arrived home after a day worth of classes.